Today's #PrideLibrary19 prompt – Pride #SockSunday – may be somewhat confusing if you're not on bookstagram. Essentially, it's a hashtag where bookstagrammers share bookish sock photos! These are really fun, especially since they often result in very cosy looking pictures.
Personally, I strived to take the gayest Sock Sunday picture ever taken. Which was a challenge, because I'd forgotten how much I hate taking Sock Sunday photos. I'm thinking yoga is probably easier! (Not really though, I know for a fact yoga is much harder.)
When I was considering what to write about on my blog, I thought: us queers tend to do a lot for the aesthetic, right? Which is why today, I'm recommending books that have pride flags on them!! If your bookshelves don't look gay enough, I got you!
---
Rainbow flags
Juno Dawson, ed. – Proud
A stirring, bold and moving anthology of stories and poetry by top LGBTQ+ YA authors and new talent, giving their unique responses to the broad theme of pride. Each story has an illustration by an artist identifying as part of the LGBTQ+ community. Compiled by Juno Dawson, author of THIS BOOK IS GAY and CLEAN.
A celebration of LGBTQ+ talent, PROUD is a thought-provoking, funny, emotional read.
Contributors: Steve Antony, Dean Atta, Kate Alizadeh, Fox Benwell, Alex Bertie, Caroline Bird, Fatti Burke, Tanya Byrne, Moïra Fowley-Doyle, Frank Duffy, Simon James Green, Leo Greenfield, Saffa Khan, Karen Lawler, David Levithan, Priyanka Meenakshi, Alice Oseman, Michael Lee Richardson, David Roberts, Cynthia So, Kay Staples, Jessica Vallance, Kristen Van Dam and Kameron White.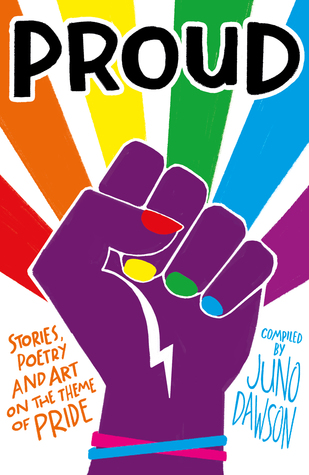 It's safe to say both the cover and the spine of Proud radiate "PRIDE"! I loved this anthology a whole lot. Usually I have a hard time rating anthologies because the stories' quality will differ and I won't like every story equally, but all of the contributions to this book were so consistent. I'd honestly rate them all 4 stars separately. It made me really happy to read this.
While I did love what this anthology IS, and I wouldn't want to rate it on what it ISN'T, I can't help but feel disappointed that there wasn't any aro and/or ace rep. Since this book is promoted as being super inclusive, I was really hoping to have these identities represented. I thought it was a real shame that this wasn't the case. What I have seen: gay/lesbian, bisexual, transgender/non-binary rep. And that's all really great! But yeah, it could definitely have been more inclusive! Admittedly though, I was happy to see an aro/ace artist contribute to this, so I don't want to come down on it too harshly. I justed want to hopefully help manage people's expectations.
---
Juno Dawson – This Book Is Gay
Lesbian. Bisexual. Queer. Transgender. Straight. Curious. This book is for everyone, regardless of gender or sexual preference. This book is for anyone who's ever dared to wonder. This book is for YOU.
There's a long-running joke that, after "coming out," a lesbian, gay guy, bisexual, or trans person should receive a membership card and instruction manual. THIS IS THAT INSTRUCTION MANUAL. You're welcome.
Inside you'll find the answers to all the questions you ever wanted to ask: from sex to politics, hooking up to stereotypes, coming out and more. This candid, funny, and uncensored exploration of sexuality and what it's like to grow up LGBT also includes real stories from people across the gender and sexual spectrums, not to mention hilarious illustrations.
You will be entertained. You will be informed. But most importantly, you will know that however you identify (or don't) and whomever you love, you are exceptional. You matter. And so does this book.
I recently bought This Book Is Gay by Juno Dawson, and this was the most coverbuy of coverbuys. While the synopsis seems great, I have heard this book is not exactly inclusive, so that's a real shame. I will probably read it at some point, but I'll do so critically, and when I'm in the right headspace, so as to avoid getting hurt.
---
The Summer of Jordi Perez
Seventeen, fashion-obsessed, and gay, Abby Ives has always been content playing the sidekick in other people's lives. While her friends and sister have plunged headfirst into the world of dating and romances, Abby has stayed focused on her plus-size style blog and her dreams of taking the fashion industry by storm. When she lands a prized internship at her favorite local boutique, she's thrilled to take her first step into her dream career. She doesn't expect to fall for her fellow intern, Jordi Perez. Abby knows it's a big no-no to fall for a colleague. She also knows that Jordi documents her whole life in photographs, while Abby would prefer to stay behind the scenes.
Then again, nothing is going as expected this summer. She's competing against the girl she's kissing to win a paid job at the boutique. She's somehow managed to befriend Jax, a lacrosse-playing bro type who needs help in a project that involves eating burgers across L.A.'s eastside. Suddenly, she doesn't feel like a sidekick. Is it possible Abby's finally in her own story?
But when Jordi's photography puts Abby in the spotlight, it feels like a betrayal, rather than a starring role. Can Abby find a way to reconcile her positive yet private sense of self with the image that other people have of her?
Is this just Abby's summer of fashion? Or will it truly be The Summer of Jordi Perez (and the Best Burger in Los Angeles)?
Basically, I could spend the rest of Pride Month shouting at you to read The Summer of Jordi Perez. Because I enjoyed it that much. And sure, it's already amazing that the title on the cover is done in rainbow colours. But the spine is even better!!
---
Meredith Russo – Birthday
Meet Eric and Morgan.
Born on the same day, at the same time, in the same place. They've always shared this one day together, but as they grow up they begin to grow apart.
Everyone expects Eric to get a football scholarship, but no one knows he's having second thoughts.
Former quarterback Morgan feels utterly alone, as she wrestles with the difficult choice to live as her true self.
Both of them are struggling to be the person they know they are. Who better to help than your best friend?
Told on one day every year, over six years, this is a story about how change pulls people apart… and how love brings them back together.
An LGBTQ+ YA One Day perfect for fans of Love, Simon, Birthday is a beautiful love story by the best-selling #ownvoices author of If I Was Your Girl.
Not only does the UK edition of Birthday by Meredith Russo have a rainbow coloured candle on the cover, it also has sprayed edges in the same colours!! I haven't read this book yet, but I'm hoping to get a copy soon.
---
The Miseducation of Cameron Post
The night Cameron Post's parents died, her first emotion was relief. Relief they would never know that, hours earlier, she'd been kissing a girl.
Now living with her conservative aunt in small-town Montana, hiding her sexuality and blending in and becomes second nature to Cameron until she begins an intense friendship with the beautiful Coley Taylor.
Desperate to 'correct' her niece, Cameron's aunt takes drastic action.
Now Cameron must battle with the cost of being her true self – even if she's not completely sure who that is.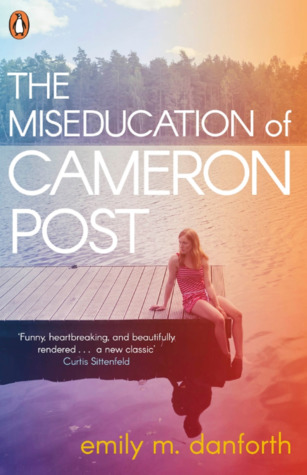 The Miseducation of Cameron Post has sprayed rainbow edges as well! I would urge you to pay attention to the edition you're ordering though, because I ended up with the wrong edition when I ordered it. But the edition with the rainbow edges should have the pictured cover! It's the UK edition by Penguin, I believe.
---
Specific flags
The Birds, the Bees and You and Me
Seventeen-year-old Lacey Burke is the last person on the planet who should be doling out sex advice. For starters, she's never even kissed anyone, and she hates breaking the rules. Up until now, she's been a straight-A music geek that no one even notices. All she cares about is jamming out with her best friends, Theo and Evita.
But then everything changes.
When Lacey sees first-hand how much damage the abstinence-only sex-ed curriculum of her school can do, she decides to take a stand and starts doling out wisdom and contraception to anyone who seeks her out in the girls' restroom. But things with Theo become complicated quickly, and Lacey is soon not just keeping everyone else's secrets, but hers as well.
Ever seen a book with ace flags on the cover? I sure hadn't! So it's safe to say The Birds, The Bees, and You and Me was a coverbuy, although I'm also very much here for inclusive sex ed in YA! I do want to give you a little heads up though: this book isn't actually very queer. Based on the cover, I expected the main character to be ace, but it turned out to be a side character. Which was still awesome, but I do think the cover might give people the wrong idea, so I did want to let you know what to expect!
---
The Brightsiders
A teen rockstar has to navigate family, love, coming out, and life in the spotlight after being labeled the latest celebrity trainwreck in Jen Wilde's quirky and utterly relatable novel.
As a rock star drummer in the hit band The Brightsiders, Emmy King's life should be perfect. But there's nothing the paparazzi love more than watching a celebrity crash and burn. When a night of partying lands Emmy in hospital and her girlfriend in jail, she's branded the latest tabloid train wreck.
Luckily, Emmy has her friends and bandmates, including the super-swoonworthy Alfie, to help her pick up the pieces of her life. She knows hooking up with a band member is exactly the kind of trouble she should be avoiding, and yet Emmy and Alfie Just. Keep. Kissing.
Will the inevitable fallout turn her into a clickbait scandal (again)? Or will she find the strength to stand on her own?
It took me ages to realize this book has the bi flag on the cover. Which, I know… But isn't it beautiful?! Jen Wilde is one of my favourite YA contemporary authors, and I really loved The Brightsiders.
---
If I Was Your Girl
Amanda Hardy is the new girl in school. Like anyone else, all she wants is to make friends and fit in. But Amanda is keeping a secret, and she's determined not to get too close to anyone.
But when she meets sweet, easygoing Grant, Amanda can't help but start to let him into her life. As they spend more time together, she realizes just how much she is losing by guarding her heart. She finds herself yearning to share with Grant everything about herself, including her past. But Amanda's terrified that once she tells him the truth, he won't be able to see past it.
Because the secret that Amanda's been keeping? It's that at her old school, she used to be Andrew. Will the truth cost Amanda her new life, and her new love?
I guess Meredith Russo loves her Pride flags, because the UK edition of If I Was Your Girl has one too! Specifically, this one has a trans flag, which is really awesome!
---
Do you know of any other books with Pride flags on the cover? Let me know in the comments!