Another belated post, but I'm hoping to catch up soon! For yesterday's diverse books prompt of #PrideLibrary19, I wanted to give you some intersectionally diverse recommendations. First, I'll give a short explanation of what intersectionality means. Please note, this is by no means extensive, but just meant to give you an idea if you aren't familiar with the term. Then I'll share 5 books that are intersectionally diverse in one way or other, and I'll include the marginalized identities that are represented.
---
What Is Intersectionality?
Intersectionality means, in short, that different marginalized identities can overlap, or that someone might have more than one marginalized identity. It's important to read about intersecting identities, not only because it's important to see different marginalizations represented in fiction, but also because intersecting identities impact each other. For instance, a Black woman will have a very different experience with being a woman than a white woman.
Of course, this also goes for LGBTQ+ identities. Other marginalizations, such as race or disability, will impact how someone experiences their queer identity. Which is why for this prompt, I'm recommending books to read if you want to see intersectional marginalization represented.
---
Tehlor Kay Mejia – We Set the Dark on Fire
At the Medio School for Girls, distinguished young women are trained for one of two roles in their polarized society. Depending on her specialization, a graduate will one day run a husband's household or raise his children, but both are promised a life of comfort and luxury, far from the frequent political uprisings of the lower class. Daniela Vargas is the school's top student, but her bright future depends upon no one discovering her darkest secret—that her pedigree is a lie. Her parents sacrificed everything to obtain forged identification papers so Dani could rise above her station. Now that her marriage to an important politico's son is fast approaching, she must keep the truth hidden or be sent back to the fringes of society, where famine and poverty rule supreme.
On her graduation night, Dani seems to be in the clear, despite the surprises that unfold. But nothing prepares her for all the difficult choices she must make, especially when she is asked to spy for a resistance group desperately fighting to bring equality to Medio. Will Dani cling to the privilege her parents fought to win for her, or to give up everything she's strived for in pursuit of a free Medio—and a chance at a forbidden love?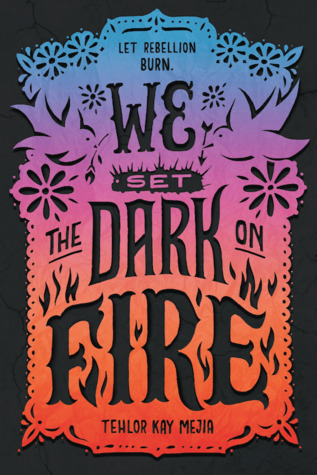 I finished We Set the Dark on Fire last week, and I'm so impressed with this novel. This book is everything The Handmaid's Tale should have been. (Yes, I wasn't a fan. Sorry.) Because that book is meant to be feminist, but feminism isn't real unless it's intersectional, meaning all women are included, and marginalizations that impact gender issues are taken into account as well. This book has a Latinx main character who ends up in an f/f romance, and it discusses subjects such as gender hierarchy, social class, and immigration.
---
Natasha Ngan – Girls of Paper and Fire
Each year, eight beautiful girls are chosen as Paper Girls to serve the king. It's the highest honor they could hope for…and the most cruel.
But this year, there's a ninth girl. And instead of paper, she's made of fire.
In this lush fantasy, Lei is a member of the Paper caste, the lowest and most oppressed class in Ikhara. She lives in a remote village with her father, where the decade-old trauma of watching her mother snatched by royal guards still haunts her. Now, the guards are back, and this time it's Lei they're after–the girl whose golden eyes have piqued the king's interest.
Over weeks of training in the opulent but stifling palace, Lei and eight other girls learn the skills and charm that befit being a king's consort. But Lei isn't content to watch her fate consume her. Instead, she does the unthinkable–she falls in love. Her forbidden romance becomes enmeshed with an explosive plot that threatens the very foundation of Ikhara, and Lei, still the wide-eyed country girl at heart, must decide just how far she's willing to go for justice and revenge.
Presented by James Patterson, Natasha Ngan's lyrical, searing, visceral fantasy, Girls of Paper and Fire, will remind us how precious freedom is–and the price we must pay to achieve it.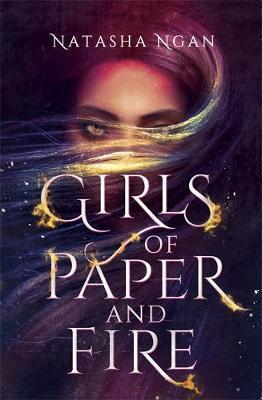 Girls of Paper and Fire was one of my first reads of the year, and it's still one of my favourites. The main character is an East-Asian girl who ends up in an f/f romance throughout the novel. This book deals heavily with rape and (sexual) abuse as well, so be mindful of that before picking it up.
---
Marieke Nijkamp, ed. – Unbroken
This anthology explores disability in fictional tales told from the viewpoint of disabled characters, written by disabled creators. With stories in various genres about first loves, friendship, war, travel, and more, Unbroken will offer today's teen readers a glimpse into the lives of disabled people in the past, present, and future.
The contributing authors are awardwinners, bestsellers, and newcomers including Kody Keplinger, Kristine Wyllys, Francisco X. Stork, William Alexander, Corinne Duyvis, Marieke Nijkamp, Dhonielle Clayton, Heidi Heilig, Katherine Locke, Karuna Riazi, Kayla Whaley, Keah Brown, and Fox Benwell. Each author identifies as disabled along a physical, mental, or neurodiverse axis―and their characters reflect this diversity.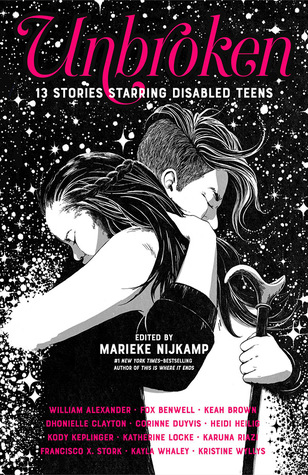 If you're looking for a wonderfully intersectional anthology, Unbroken is the perfect one to pick up! It's edited by queer and autistic author Marieke Nijkamp, and includes 13 stories about disabled teens. Several of those are by authors of colour, and several of them include LGBTQ+ rep.
---
Adib Khorram – Darius the Great Is Not Okay
Darius doesn't think he'll ever be enough, in America or in Iran.
Darius Kellner speaks better Klingon than Farsi, and he knows more about Hobbit social cues than Persian ones. He's about to take his first-ever trip to Iran, and it's pretty overwhelming–especially when he's also dealing with clinical depression, a disapproving dad, and a chronically anemic social life. In Iran, he gets to know his ailing but still formidable grandfather, his loving grandmother, and the rest of his mom's family for the first time. And he meets Sohrab, the boy next door who changes everything.
Sohrab makes sure people speak English so Darius can understand what's going on. He gets Darius an Iranian National Football Team jersey that makes him feel like a True Persian for the first time. And he understands that sometimes, best friends don't have to talk. Darius has never had a true friend before, but now he's spending his days with Sohrab playing soccer, eating rosewater ice cream, and sitting together for hours in their special place, a rooftop overlooking the Yazdi skyline.
Sohrab calls him Darioush–the original Persian version of his name–and Darius has never felt more like himself than he does now that he's Darioush to Sohrab. When it's time to go home to America, he'll have to find a way to be Darioush on his own.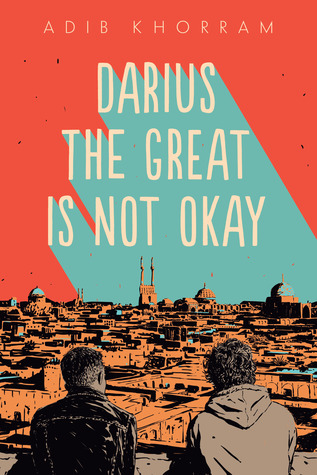 The LGBTQ+ rep in Darius the Great Is Not Okay isn't very explicit, although it's clear from context that the main character is questioning. He just doesn't pay much attention to that, since he has enough other issues to deal with: battling depression, his Iranian-American identity, his weight, and his relationship with his dad. I can't speak for the other representation, but the depression representation is one of the most relatable ones I've read. This is such a beautiful novel, and it's impossible not to love Darius.
---
Tess Sharpe – Far From You
Sophie Winters nearly died. Twice.
The first time, she's fourteen, and escapes a near-fatal car accident with scars, a bum leg, and an addiction to Oxy that'll take years to kick.
The second time, she's seventeen, and it's no accident. Sophie and her best friend Mina are confronted by a masked man in the woods. Sophie survives, but Mina is not so lucky. When the cops deem Mina's murder a drug deal gone wrong, casting partial blame on Sophie, no one will believe the truth: Sophie has been clean for months, and it was Mina who led her into the woods that night for a meeting shrouded in mystery.
After a forced stint in rehab, Sophie returns home to a chilly new reality. Mina's brother won't speak to her, her parents fear she'll relapse, old friends have become enemies, and Sophie has to learn how to live without her other half. To make matters worse, no one is looking in the right places and Sophie must search for Mina's murderer on her own. But with every step, Sophie comes closer to revealing all: about herself, about Mina and about the secret they shared.
Let me start by saying I haven't read Far From You yet. But I wanted to include it anyway, because I've heard great things about it. As far as I know, the main character is a sapphic girl who deals with chronic pain and addiction. Chronic illness/pain is isn't something I've seen represented in books a lot, so I'm very curious to read this book.
---
Bonus – Non-Fiction: Gender Identity, Sexuality and Autism
Bringing together a collection of narratives from those who are on the autism spectrum whilst also identifying as lesbian, gay, bisexual, transgender, queer, intersex and/or asexual (LGBTQIA), this book explores the intersection of the two spectrums as well as the diverse experiences that come with it.
By providing knowledge and advice based on in-depth research and personal accounts, the narratives will be immensely valuable to teenagers, adults, partners and families. The authors round these stories with a discussion of themes across narratives, and implications for the issues discussed. In the final chapter, the authors reflect on commonly asked questions from a clinical perspective, bringing in relevant research, as well as sharing best-practice tips and considerations that may be helpful for LGBTQIA and ASD teenagers and adults. These may also be used by family members and clinicians when counselling teenagers and adults on the dual spectrum.
With each chapter structured around LGBTQIA and autism spectrum identities, Gender Identity, Sexuality and Autism highlights the fluidity of gender identity, sexual orientation and neurodiversity and provides a space for people to share their individual experiences.
When it comes to intersectional representation of my own identities, I really appreciated Gender Identity, Sexuality and Autism, a non-fiction book about the way gender identity and sexuality intersect with autism. So I wanted to include this as a bonus recommendation! In my review, I wrote:
I especially loved the intersection of [the] identities being discussed, because they don't exist in a vacuum: my being autistic very much affects my queerness. In that sense, this book exactly grasped my own experience in a way that neurotypical LGBTQ+ stories often don't exactly.
The book pays attention to other marginalizations as well, by interviewing respondents with different racial identities, for instance.