A day late, unfortunately, but my wonderful friend Michelle, who's also one of my #PrideLibrary19 co-hosts, wrote a guest post for yesterday's prompt: bi flag!
---
Hi guys, I'm Michelle from Michelle Likes Things and I'll be substituting for Anniek today. I identify as bisexual and since today's #PrideLibrary19 prompt is bi flag, it was the perfect day for me to write as many blogposts as I could.
While I still haven't found one that I like, a bi flag has been on my wishlist for ages! I probably won't find one with the exact right, beautiful colours for a while (I'm really picky okay), so for today's #PrideLibrary19 prompt, I thought I would recommend some awesome books, with bisexual characters in the colours of the bi flag!
---
Jen Wilde – The Brightsiders
First up is The Brightsiders by Jen Wilde. I loved this book! It combines queer characters with rockmusic and weird girlfriends and secret crushes and kickass characters and characters with questionable reasons for being in the story, this is a book you need to pick up. It deals with downward spirals that are actually hard to get out of aren't solved with just a good night's sleep. If you've read I Was Born For This by Alice Oseman, you'll love this! And if you haven't read I Was Born For This and you end up loving The Brightsiders, you'll know what to read next.
A teen rockstar has to navigate family, love, coming out, and life in the spotlight
after being labeled the latest celebrity trainwreck in Jen Wilde's quirky and utterly
relatable novel. As a rock star drummer in the hit band The Brightsiders, Emmy King's life should be perfect. But there's nothing the paparazzi love more than watching a celebrity crash and burn. When a night of partying lands Emmy in hospital and her girlfriend in jail, she's branded the latest tabloid train wreck. Luckily, Emmy has her friends and bandmates, including the super-swoonworthy Alfie, to help her pick up the pieces of her life. She knows hooking up with a band member is exactly the kind of trouble she should be avoiding, and yet Emmy and Alfie Just. Keep. Kissing. Will the inevitable fallout turn her into a clickbait scandal (again)? Or will she find the strength to stand on her own?
---
M.K. England – The Disasters
The second book in my bi flag is The Disasters by M.K. England. I bought this for the sole reason that it's about space. I love space. But then I found out it's also queer, and it's about a bunch of misfits. This. Is. My. Story. AND THERE ARE SO MANY GIRLS I'M HAPPY. If you're still not sure whether you should buy it, just read the synopsis.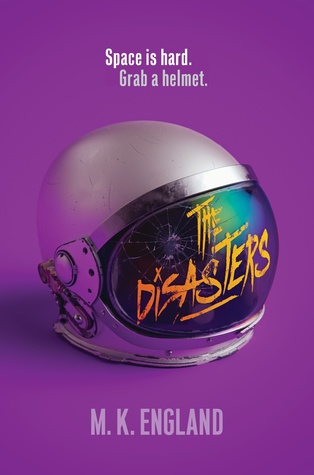 Hotshot pilot Nax Hall has a history of making poor life choices. So it's not exactly a surprise when he's kicked out of the elite Ellis Station Academy in less than twenty-four hours. But Nax's one-way trip back to Earth is cut short when a terrorist group attacks the Academy. Nax and three other washouts escape—barely—but they're also the sole witnesses to the biggest crime in the history of space colonization. And the perfect scapegoats.
On the run and framed for atrocities they didn't commit, Nax and his fellow failures execute a dangerous heist to spread the truth about what happened at the Academy. They may not be "Academy material," and they may not get along, but they're the only ones left to step up and fight.
---
Christine Lynn Herman – The Devouring Gray
I'm kind of sad the bi flag only has three colours, because that means I only have one
recommendation left ☹ But it's a good one nonetheless: The Devouring Gray by Christine Lynn Herman. This one is so different from the first two books, but equally awesome. I love me a creepy fantasy book with lots of diversity. There are two bisexual characters, disability rep and two queer side characters! So. Good. Here's the synopsis.
On the edge of town a beast haunts the woods, trapped in the Gray, its bonds loosening…
Uprooted from the city, Violet Saunders doesn't have much hope of fitting in at her new school in Four Paths, a town almost buried in the woodlands of rural New York. The fact that she's descended from one of the town's founders doesn't help much, either—her new neighbours treat her with distant respect, and something very like fear. When she meets Justin, May, Isaac, and Harper, all children of founder families, and sees the otherworldly destruction they can wreak, she starts to wonder if the townsfolk are right to be afraid. When bodies start to appear in the woods, the locals become downright hostile. Can the teenagers solve the mystery of Four Paths, and their own part in it, before another calamity strikes?
---
And those colours make up the bi flag! Let's hope by this time next year I've finally found my own flag so I can rub it in everyone's face. I hope you like my recommendations and decide to pick them up if you haven't read them already! Let me know what you think if you've read them already!
---
I hope you enjoyed this guest post. Thank you so much for writing it, Michelle! I really loved The Brightsiders, and I'm very excited to read The Disasters soon. I might just have to order a copy of The Devouring Gray as well, though!!