Recommending you all the trans and/or non-binary books today! Since these books are still kind of hard to find sometimes, I've compiled a list of 10 recommendations. These are books in varying genres, so there's bound to be something you'll enjoy!
---
Mason Deaver – I Wish You All the Best
When Ben De Backer comes out to their parents as nonbinary, they're thrown out of their house and forced to move in with their estranged older sister, Hannah, and her husband, Thomas, whom Ben has never even met. Struggling with an anxiety disorder compounded by their parents' rejection, they come out only to Hannah, Thomas, and their therapist and try to keep a low profile in a new school.
But Ben's attempts to survive the last half of senior year unnoticed are thwarted when Nathan Allan, a funny and charismatic student, decides to take Ben under his wing. As Ben and Nathan's friendship grows, their feelings for each other begin to change, and what started as a disastrous turn of events looks like it might just be a chance to start a happier new life.
At turns heartbreaking and joyous, I Wish You All the Best is both a celebration of life, friendship, and love, and a shining example of hope in the face of adversity.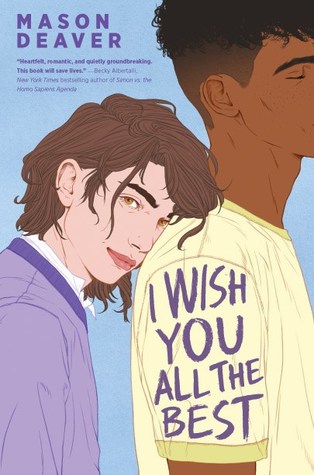 I'm going to start off with what's already one of the most groundbreaking YA novels of the year: I Wish You All the Best. Never before had I read a traditionally published novel with a non-binary main character, so this was amazing to read. And it's just sooo good, people!
---
Austin Chant – Peter Darling
Ten years ago, Peter Pan left Neverland to grow up, leaving behind his adolescent dreams of boyhood and resigning himself to life as Wendy Darling. Growing up, however, has only made him realize how inescapable his identity as a man is.
But when he returns to Neverland, everything has changed: the Lost Boys have become men, and the war games they once played are now real and deadly. Even more shocking is the attraction Peter never knew he could feel for his old rival, Captain Hook—and the realization that he no longer knows which of them is the real villain.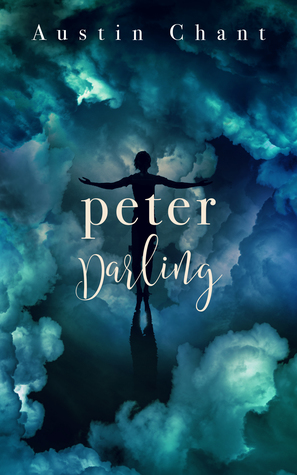 Something you should know about me, is that I adore fairytales. So of course, I'm a massive sucker for retellings. And what's better than retellings? Queer retellings! I just read this wonderful Peter Pan retelling this month. In this book, Peter Pan is trans and he went to Neverland because his parents couldn't quite accept that. But mostly, it's a super lovely enemies to lovers slowburn.
---
Meredith Russo – If I Was Your Girl
A new kind of big-hearted novel about being seen for who you really are.
Amanda Hardy is the new girl in school. Like anyone else, all she wants is to make friends and fit in. But Amanda is keeping a secret, and she's determined not to get too close to anyone.
But when she meets sweet, easygoing Grant, Amanda can't help but start to let him into her life. As they spend more time together, she realizes just how much she is losing by guarding her heart. She finds herself yearning to share with Grant everything about herself, including her past. But Amanda's terrified that once she tells him the truth, he won't be able to see past it.
Because the secret that Amanda's been keeping? It's that at her old school, she used to be Andrew. Will the truth cost Amanda her new life, and her new love?
Meredith Russo's If I Was Your Girl is a universal story about feeling different and a love story that everyone will root for.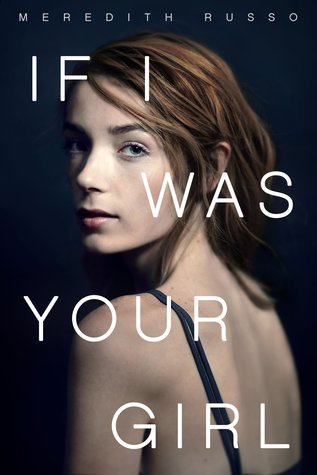 This book is like the epitome of own voices: the author is a trans woman, the book's main character is a trans girl, and there's a trans model on the cover. What's not to love about that? This is such an impactful read that I think everyone should read at some point in their lives.
---
C.B. Lee – Not Your Villain
Bells Broussard thought he had it made when his superpowers manifested early. Being a shapeshifter is awesome. He can change his hair whenever he wants, and if putting on a binder for the day is too much, he's got it covered. But that was before he became the country's most-wanted villain.
After discovering a massive cover-up by the Heroes' League of Heroes, Bells and his friends Jess, Emma, and Abby set off on a secret mission to find the Resistance. Meanwhile, power-hungry former hero Captain Orion is on the loose with a dangerous serum that renders meta-humans powerless, and a new militarized robotic threat emerges. Everyone is in danger. Between college applications and crushing on his best friend, will Bells have time to take down a corrupt government?
Sometimes, to do a hero's job, you need to be a villain.
I imagine if you asked a group of trans people what supernatural ability they would most like to have, lots of them would answer with 'shapeshifting'. So how amazing is it to see a Black trans superhero with a shapeshifting ability, living his best life? I mean, there are struggles, but being trans is not a central one here. Not Your Villain is a sequel to Not Your Sidekick, but it could be read as a standalone, as it centers a different main character.
---
Alice Oseman – I Was Born For This
For Angel Rahimi, life is only about one thing: The Ark – a pop-rock trio of teenage boys who are currently taking the world by storm. Being part of The Ark's fandom has given her everything – her friendships, her dreams, her place in the world.
Jimmy Kaga-Ricci owes everything to The Ark too. He's their frontman – and playing in a band is all he's ever dreamed of doing. It's just a shame that recently everything in his life seems to have turned into a bit of a nightmare.
Because that's the problem with dreaming – eventually, inevitably, real life arrives with a wake-up call. And when Angel and Jimmy are unexpectedly thrust together, they will discover just how strange and surprising facing up to reality can be.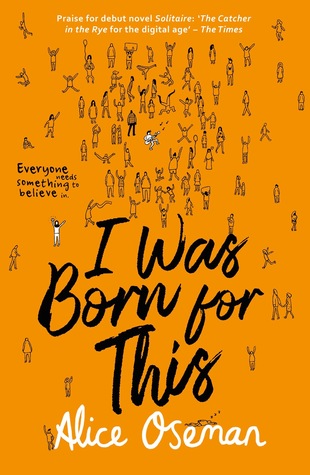 I can't talk about queer books for a month and shut up about Alice Oseman's books, okay? Impossible. So of course I had to include I Was Born For This in this list! Just like in Not Your Villain, being trans isn't one of the protagonists' main struggles. It just is, and there are problems he deals with, but this isn't one of them in the book.
---
Mina Waheed – Graham's Delicacies
Six people and three love stories all in one bakery.
Saccharine
Jen goes to work, agonizes over college, and looks forward to the stolen moments in the kitchen. There she can watch Emilie bake love into every morsel. Their delicate friendship takes a step towards a budding romance, but will Jen's anxiety help them survive their first hurdle?
Delectable
James has never been kissed but he wants to be. Especially by his co-worker Sam, who he can't talk to without turning into a little jerk. Sam is made of all the good stuff, but will James' deepest insecurities allow him to kiss the boy?
Ravenous
Alex won't let some foodie with a video camera bash their beloved bakery, even if it means to be petty. Except they're nowhere ready for Yujin, the one who got away and is now romancing them. Will Alex's pride let them see the gold heart the bashful king hides?
I've already read this story collection twice since I got it a few months ago, because god, I love it. One of these stories has a non-binary love interest, and one of them has a non-binary protagonist, and all three of them are just so fluffy and heartwarming and uplifting!
---
Anna-Marie McLemore – When the Moon Was Ours
To everyone who knows them, best friends Miel and Sam are as strange as they are inseparable. Roses grow out of Miel's wrist, and rumors say that she spilled out of a water tower when she was five. Sam is known for the moons he paints and hangs in the trees, and for how little anyone knows about his life before he and his mother moved to town. But as odd as everyone considers Miel and Sam, even they stay away from the Bonner girls, four beautiful sisters rumored to be witches. Now they want the roses that grow from Miel's skin, convinced that their scent can make anyone fall in love. And they're willing to use every secret Miel has fought to protect to make sure she gives them up.
One thing you're guaranteed if you pick up one of Anna-Marie McLemore's books, is beautiful writing. And the second is that they're (almost) always queer. This is both, and it's so wonderful. One of the two main characters is trans and I absolutely loved his POV. While this book isn't own voices, the book does deal with some of his struggles being trans (like, you know, the hassle and discomfort of getting your period when you're a man). I can't judge the rep, but I thought it was handled sensitively, and I recall McLemore adding an author's note about talking to her husband about his experiences a lot, because he is trans.
---
Alex Gino – George
BE WHO YOU ARE. When people look at George, they think they see a boy. But she knows she's not a boy. She knows she's a girl.
George thinks she'll have to keep this a secret forever. Then her teacher announces that their class play is going to be Charlotte's Web. George really, really, REALLY wants to play Charlotte. But the teacher says she can't even try out for the part… because she's a boy.
With the help of her best friend, Kelly, George comes up with a plan. Not just so she can be Charlotte – but so everyone can know who she is, once and for all.
This middlegrade novel about a trans girl has already become quite the classic. It's such a necessary novel, with both heartbreaking and heartwarming aspects. It is strange to me why the title is the main character's deadname, but other than that this was a very good read, and I would very much recommend it.
---
Melanie Gillman – Stage Dreams
In this rollicking queer western adventure, acclaimed cartoonist Melanie Gillman (Stonewall Award Honor Book As the Crow Flies) puts readers in the saddle alongside Flor and Grace, a Latinx outlaw and a trans runaway, as they team up to thwart a Confederate plot in the New Mexico Territory. When Flor–also known as the notorious Ghost Hawk–robs the stagecoach that Grace has used to escape her Georgia home, the first thing on her mind is ransom. But when the two get to talking about Flor's plan to crash a Confederate gala and steal some crucial documents, Grace convinces Flor to let her join the heist.
A historical graphic novel with a trans, Latinx main character? Sign. Me. Up. This book was recommended to me by the lovely Amy @ Bookish Heights, who also has an amazing list of LGBTQ+ webcomics that are free to read, so I really recommend checking that out as well!
---
BONUS: Ash Hardell – The ABCs of LGBT+
Hello and welcome to the ABC's of LGBT. Ash Hardell, one of the most trusted voices on YouTube presents a detailed look at all things LGBT+. Along with in-depth written definitions, personal anecdotes, helpful infographics, links to online videos, and more, Hardell aims to provide a friendly voice to a community looking for information.
Beyond those searching for a label, this book is also for allies and LGBT+ people simply looking to pack in some extra knowledge! Knowledge is a critical part of acceptance, learning about new identities broadens our understanding of humanity, heightens our empathy, and allows us different, valuable perspectives. These words also provide greater precision when describing attractions and identities. There is never anything wrong with having and efficient, expansive vocabulary!
If you're someone who's questioning their gender identity, or sexual/romantic identity, or all of the above, I would very much recommend The ABC's of LGBT+. As well as if you're just interested to learn more. It's a very extensive book filled with different terms and definitions, but also helpful insights in people's own experiences. So many different sexual, romantic and gender identities are included and explained here, it's truly amazing! It book has helped me a lot already, and will hopefully help me even more when I reread it, so I really wanted to recommend it today!
---
What's your favourite book with a trans/non-binary main character?