Today's prompt of #PrideLibrary19 is 'Authors of colour', which means we're focusing on LGBTQ+ books by authors of colour. Because too often, people will read a certain amount of white LGBTQ+ books and pat themselves on the back for reading diverse books. And I've seen a lot of people say it's hard to find books by QPOC (Queer People of Colour). We can – and should – always do better than that! These authors and books really are out there, and yes, there should be more, but let's also pay attention to the ones that exist!! So to help you out a little, I've compiled a list of 10 books on my TBR.
And I'll be honest: I added a few of these because I was looking at my own TBR and realized it wasn't quite diverse enough. So I had a look at my wishlist (I have A LOT of endless Book Depository wishlists, okay? That's a story for another day), and I ordered a few I'm excited to read this month. I also looked through my audiobook service's collection and added a few audiobooks to my TBR.
---
Mark Oshiro – Anger Is a Gift
Six years ago, Moss Jefferies' father was murdered by an Oakland police officer. Along with losing a parent, the media's vilification of his father and lack of accountability has left Moss with near crippling panic attacks.
Now, in his sophomore year of high school, Moss and his fellow classmates find themselves increasingly treated like criminals by their own school. New rules. Random locker searches. Constant intimidation and Oakland Police Department stationed in their halls. Despite their youth, the students decide to organize and push back against the administration.
When tensions hit a fever pitch and tragedy strikes, Moss must face a difficult choice: give in to fear and hate or realize that anger can actually be a gift.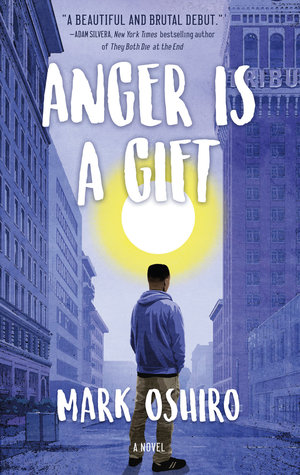 I've been wanting to read Anger Is a Gift ever since it came out, but I never got around to ordering it. This book sounds a little bit like The Hate U Give and Dear Martin. As far as I'm aware, the book has a gay Black main character and a bisexual Latinx love interest, as well as an asexual side character and multiple sapphic ones.
---
Lillie Vale – Small Town Hearts
Rule #1 – Never fall for a summer boy.
Fresh out of high school, Babe Vogel should be thrilled to have the whole summer at her fingertips. She loves living in her lighthouse home in the sleepy Maine beach town of Oar's Rest and being a barista at the Busy Bean, but she's totally freaking out about how her life will change when her two best friends go to college in the fall. And when a reckless kiss causes all three of them to break up, she may lose them a lot sooner. On top of that, her ex-girlfriend is back in town, bringing with her a slew of memories, both good and bad.
And then there's Levi Keller, the cute artist who's spending all his free time at the coffee shop where she works. Levi's from out of town, and even though Babe knows better than to fall for a tourist who will leave when summer ends, she can't stop herself from wanting to know him. Can Babe keep her distance, or will she break the one rule she's always had – to never fall for a summer boy?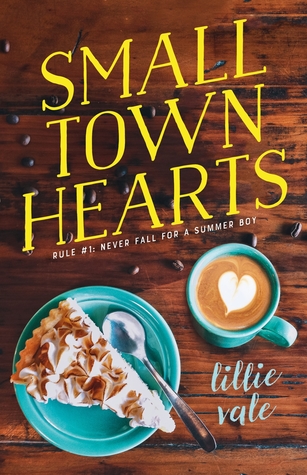 Small Town Hearts just came out in March and I've seen a lot of buzz surrounding it. As you probably know by now, I'm a big fan of diverse contemporaries, so I'm very excited to read this one. The book has a bisexual main character, which already becomes clear in the synopsis!
---
Laura Pohl – The Last 8
A high-stakes survival story about eight teenagers who outlive an alien attack—perfect for fans of The 5th Wave
Clover Martinez has always been a survivor, which is the only reason she isn't among the dead when aliens invade and destroy Earth as she knows it.
When Clover hears an inexplicable radio message, she's shocked to learn there are other survivors—and that they're all at the former Area 51. When she arrives, she's greeted by a band of misfits who call themselves The Last Teenagers on Earth.
Only they aren't the ragtag group of heroes Clover was expecting. The group seems more interested in hiding than fighting back, and Clover starts to wonder if she was better off alone. But then she finds a hidden spaceship, and she doesn't know what to believe…or who to trust.
The author stated about this book on Goodreads: "Pretty much everyone is queer." So if this sci-fi novel isn't perfect for Pride Month, I don't know what is! This kind of sounds like The 100 to me, but more diverse. I haven't read a lot of sci-fi lately, but I do really love the genre, so I'm excited to get into it a little more, and listen to this audiobook. The main character is supposed to be bisexual and aromantic, which is quite close to my own identity. There is also a f/f couple!
---
Brandy Colbert – Little & Lion
When Suzette comes home to Los Angeles from her boarding school in New England, she isn't sure if she'll ever want to go back. L.A. is where her friends and family are (along with her crush, Emil). And her stepbrother, Lionel, who has been diagnosed with bipolar disorder, needs her emotional support.
But as she settles into her old life, Suzette finds herself falling for someone new…the same girl her brother is in love with. When Lionel's disorder spirals out of control, Suzette is forced to confront her past mistakes and find a way to help her brother before he hurts himself–or worse.
Another book I've been wanting to read since it came out, is Little & Lion. If I understand correctly, this book has a Black main character who's questioning her sexuality and then realizes she's bisexual, and there's also representation of bipolar disorder.
---
K. Acrum – The Wicker King
When August learns that his best friend, Jack, shows signs of degenerative hallucinatory disorder, he is determined to help Jack cope. Jack's vivid and long-term visions take the form of an elaborate fantasy world layered over our own—a world ruled by the Wicker King. As Jack leads them on a quest to fulfill a dark prophecy in this alternate world, even August begins to question what is real or not.
August and Jack struggle to keep afloat as they teeter between fantasy and their own emotions. In the end, each must choose his own truth.
I've heard this described as "What The Raven Boys should have been", and as someone who did see the potential of that series but didn't exactly enjoy it, that's all I need! This book came out back in 2017, but I only became aware of it recently, so yay for backlist books? As far as I know, this book has an m/m romance between two bisexual characters, and a polyamorous relationship as well.
---
Nina Moreno – Don't Date Rosa Santos
Rosa Santos is cursed by the sea-at least, that's what they say. Dating her is bad news, especially if you're a boy with a boat.
But Rosa feels more caught than cursed. Caught between cultures and choices. Between her abuela, a beloved healer and pillar of their community, and her mother, an artist who crashes in and out of her life like a hurricane. Between Port Coral, the quirky South Florida town they call home, and Cuba, the island her abuela refuses to talk about.
As her college decision looms, Rosa collides – literally – with Alex Aquino, the mysterious boy with tattoos of the ocean whose family owns the marina. With her heart, her family, and her future on the line, can Rosa break a curse and find her place beyond the horizon?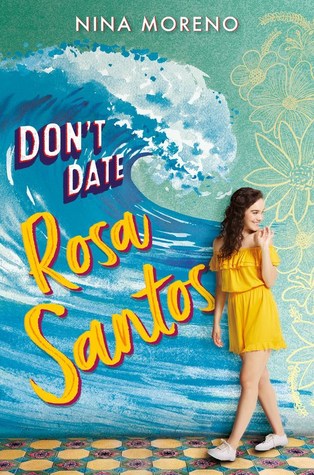 This book was already one of my most anticipated summer contemporaries, and I participated in the Yellow For Rosa initiative on release day as well, which was really fun! But then shortly after publication, I learned that Rosa, the Latinx main character, is actually bisexual?! So I added this book to my Pride TBR right away.
---
Ashley Woodfolk – The Beauty That Remains
Music brought Autumn, Shay, and Logan together. Death wants to tear them apart.
Autumn always knew exactly who she was—a talented artist and a loyal friend. Shay was defined by two things: her bond with her twin sister, Sasha, and her love of music. And Logan always turned to writing love songs when his love life was a little less than perfect.
But when tragedy strikes each of them, somehow music is no longer enough. Now Logan can't stop watching vlogs of his dead ex-boyfriend. Shay is a music blogger struggling to keep it together. And Autumn sends messages that she knows can never be answered.
Despite the odds, one band's music will reunite them and prove that after grief, beauty thrives in the people left behind.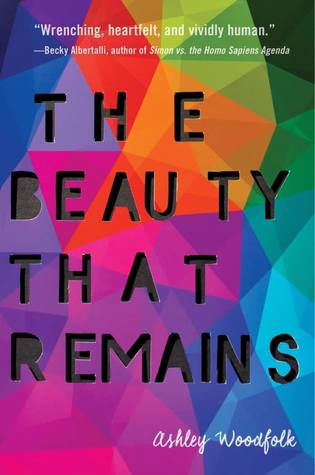 The Beauty That Remains is yet another book I've really been sleeping on. I mean, first of all, will you just look at that beautiful cover? From what I've seen, this book has Asian, Black and gay characters, and I've heard great things about it.
---
Misa Sugiura – It's Not Like It's a Secret
Sixteen-year-old Sana Kiyohara has too many secrets. Some are small, like how it bothers her when her friends don't invite her to parties. Some are big, like that fact that her father may be having an affair. And then there's the one that she can barely even admit to herself—the one about how she might have a crush on her best friend.
When Sana and her family move to California she begins to wonder if it's finally time for some honesty, especially after she meets Jamie Ramirez. Jamie is beautiful and smart and unlike anyone Sana's ever known. There are just a few problems: Sana's new friends don't trust Jamie's crowd; Jamie's friends clearly don't want her around anyway; and a sweet guy named Caleb seems to have more-than-friendly feelings for her. Meanwhile, her dad's affair is becoming too obvious to ignore anymore.
Sana always figured that the hardest thing would be to tell people that she wants to date a girl, but as she quickly learns, telling the truth is easy… what comes after it, though, is a whole lot more complicated.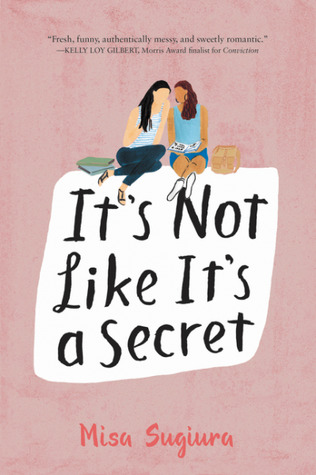 Misa Sugiura has her second book coming out this month, so it's about time I read her debut! I'm hoping to listen to the audiobook soon. I don't know much about this, except that I think the main character comes out as lesbian, and there's discussions of racism and the intersection of race and sexuality.
---
Rebecca Barrow – This Is What It Feels Like
It doesn't matter what the prize for the Sun City Originals contest is this year.
Who cares that's it's fifteen grand? Who cares about a gig opening for one of the greatest bands to ever play this town?
Not Dia, that's for sure. Because Dia knows that without a band, she hasn't got a shot at winning Sun City. Because ever since Hanna's drinking took over her life, Dia and Jules haven't been in it. And ever since Hanna left — well, there hasn't been a band.
It used to be the three of them, Dia, Jules, and Hanna, messing around and making music and planning for the future. But that was then, and this is now — and now means a baby, a failed relationship, a stint in rehab, all kinds of off beats that have interrupted the rhythm of their friendship. No contest can change that. Right?
But like the lyrics of a song you used to play on repeat, there's no forgetting a best friend. And for Dia, Jules, and Hanna, this impossible challenge — to ignore the past, in order to jumpstart the future — will only become possible if they finally make peace with the girls they once were, and the girls they are finally letting themselves be.
Rebecca Barrow's tender story of friendship, music, and ferocious love asks — what will you fight for, if not yourself?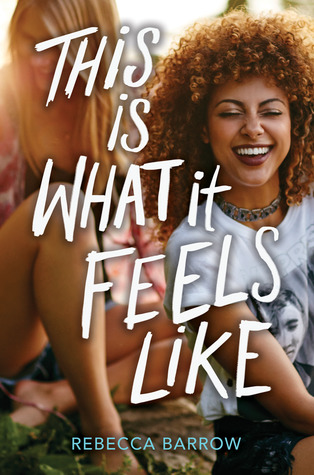 This Is What It Feels Like sounds like yet another perfect summer contemporary. I've heard so many great things about this one, and I'm very excited to read this soon! I don't know much about this beyond "sapphic band girls", but honestly, that's all I need to know!!
---
Kacen Callender – Hurricane Child
Prepare to be swept up by this exquisite novel that reminds us that grief and love can open the world in mystical ways.
Twelve-year-old Caroline is a Hurricane Child, born on Water Island during a storm. Coming into this world during a hurricane is unlucky, and Caroline has had her share of bad luck already. She's hated by everyone in her small school, she can see things that no one else can see, and — worst of all — her mother left home one day and never came back. With no friends and days filled with heartache, Caroline is determined to find her mother. When a new student, Kalinda, arrives, Caroline's luck begins to turn around. Kalinda, a solemn girl from Barbados with a special smile for everyone, seems to see the things Caroline sees, too. Joined by their common gift, Kalinda agrees to help Caroline look for her mother, starting with a mysterious lady dressed in black. Soon, they discover the healing power of a close friendship between girls. Debut author Kacen Callender presents a cadenced work of magical realism.
I'm wrapping this post up with a middlegrade novel! I've really enjoyed This Is Kind of an Epic Love Story by Kacen Callender (they recently changed their name so please be aware of that!), so I'm excited to read their middlegrade novel as well! Again, I don't know very much about this, except that it's a magical realism middlegrade about Black queer girls. I'll hopefully listen to the audiobook for this novel soon as well!
---
What LGBTQ+ books by authors of colour are on your TBR?