Since today's prompt for #PrideLibrary19 is 'Yellow books', I'm recommending you 5 LGBTQ+ books that are perfect to read during the summer!
---
Ashley Herring Blake – The Mighty Heart of Sunny St. James
When Sunny St. James receives a new heart, she decides to set off on a "New Life Plan": 1) do awesome amazing things she could never do before; 2) find a new best friend; and 3) kiss a boy for the first time.
Her "New Life Plan" seems to be racing forward, but when she meets her new best friend Quinn, Sunny questions whether she really wants to kiss a boy at all. When the reemergence of her mother, Sunny begins a journey to becoming the new Sunny St. James.
This sweet, tender novel dares readers to find the might in their own hearts.
In The Mighty Heart of Sunny St. James, we follow a main character, Sunny, who deals with the aftermath of getting a heart transplant. But that's not everything that's going on in her life. Actually, she has quite a lot to deal with. Because she's also questioning her sexuality, and her long lost biological mother suddenly shows up again.
This book just has so much heart, and I loved Sunny as a main character. And even though I'm 26, I'm still in the process of questioning (parts of) my sexuality, so I love the way this was described. If you like to read middlegrade, I'd very much recommend picking this up this summer!
---
Rebecca Podos – Like Water
A gorgeously written and deeply felt literary young adult novel of identity, millennial anxiety, and first love, from the widely acclaimed author of The Mystery of Hollow Places
In Savannah Espinoza's small New Mexico hometown, kids either flee after graduation or they're trapped there forever. Vanni never planned to get stuck—but that was before her father was diagnosed with Huntington's disease, leaving her and her mother to care for him. Now, she doesn't have much of a plan at all: living at home, working as a performing mermaid at a second-rate water park, distracting herself with one boy after another.
That changes the day she meets Leigh. Disillusioned with small-town life and looking for something greater, Leigh is not a "nice girl." She is unlike anyone Vanni has met, and a friend when Vanni desperately needs one. Soon enough, Leigh is much more than a friend. But caring about another person stirs up the moat Vanni has carefully constructed around herself, and threatens to bring to the surface the questions she's held under for so long.
With her signature stunning writing, Rebecca Podos, author of The Mystery of Hollow Places, has crafted a story of first love and of the complex ways in which the deepest parts of us are hidden, even from ourselves.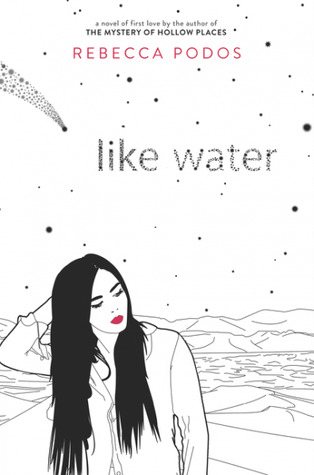 I'll be honest. Like Water wasn't really for me. But of course, that doesn't mean this is a bad book, and I know many people loved it! And for this prompt, it was one of the first books that came to mind, as it really has that summer vibe going on.
This book has a Latinx, bisexual main character, and a love interest who later in the story comes out as genderqueer. And it has a similar sort of setting as Hot Dog Girl, since the main character works as a mermaid in a theme park. If the synopsis appeals to you, I would definitely recommend giving it a shot!
---
Bill Konigsberg – The Music of What Happens
Max: Chill. Sports. Video games. Gay and not a big deal, not to him, not to his mom, not to his buddies. And a secret: An encounter with an older kid that makes it hard to breathe, one that he doesn't want to think about, ever.
Jordan: The opposite of chill. Poetry. His "wives" and the Chandler Mall. Never been kissed and searching for Mr. Right, who probably won't like him anyway. And a secret: A spiraling out of control mother, and the knowledge that he's the only one who can keep the family from falling apart.
Throw in a rickety, 1980s-era food truck called Coq Au Vinny. Add in prickly pears, cloud eggs, and a murky idea of what's considered locally sourced and organic. Place it all in Mesa, Arizona, in June, where the temp regularly hits 114. And top it off with a touch of undeniable chemistry between utter opposites.
Over the course of one summer, two boys will have to face their biggest fears and decide what they're willing to risk — to get the thing they want the most.
Two boys falling in love while working a food truck during the summer? Sign me up!
I had high hopes for The Music of What Happens, and it really does have the perfect vibe for a summer contemporary. I really liked both of the main characters. They were really supportive of each other, and I loved seeing their relationship develop, as well as their individual friendships.
I do want to warn you in advance though, because this book does have a content warning for rape.
---
Nina LaCour – Everything Leads To You
A wunderkind young set designer, Emi has already started to find her way in the competitive Hollywood film world.
Emi is a film buff and a true romantic, but her real-life relationships are a mess. She has desperately gone back to the same girl too many times to mention. But then a mysterious letter from a silver screen legend leads Emi to Ava. Ava is unlike anyone Emi has ever met. She has a tumultuous, not-so-glamorous past, and lives an unconventional life. She's enigmatic…. She's beautiful. And she is about to expand Emi's understanding of family, acceptance, and true romance.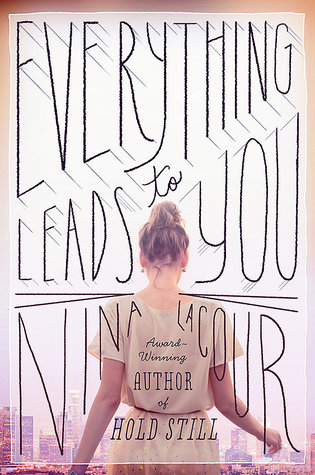 I loved Everything Leads to You. I feel like I could just end my explanation here, because there's really not a lot more to say. I had such a great time reading this. Not only because the setting is really fun (the main character designs film sets!), but also because Nina LaCour's writing style is incredibly beautiful, and because the romance is amazing. Read this, you won't regret it!
---
Lisa Jenn Bigelow – Drum Roll, Please
Find the confidence to rock out to your own beat.
Melly only joined the school band because her best friend, Olivia, begged her to. But to her surprise, quiet Melly loves playing the drums. It's the only time she doesn't feel like a mouse.
Now, she and Olivia are about to spend the next two weeks at Camp Rockaway, jamming under the stars in the Michigan woods.
But this summer brings big changes for Melly: her parents split up, her best friend ditches her, and Melly finds herself falling for a girl at camp named Adeline. To top it off, Melly's not sure she has what it takes to be a real rock 'n' roll drummer. Will she be able to make music from all the noise in her heart?
Drum Roll, Please is one of the cutest middlegrades I've ever read. It's the first middlegrade f/f romance I've read, and I could relate to the main character so incredibly much. This book had me remember exactly what it was like, being that age and feeling… out of place, with yourself, with the world around you. And trying to find a place where you fit in. The book is set during a music camp, which was an incredibly fun setting, and I absolutely loved the romance.
---
Having written this post, I really want to reread some of these books during the summer! What LGBTQ+ book do you think makes for the perfect summer read?