I feel like I say this every month, but so many great books are coming out in June! I just get very excited about new releases, okay?! Let's get into my most anticipated ones right away.
Cassandra Clare – Ghosts of the Shadow Market
The Shadow Market is a meeting point for faeries, werewolves, warlocks and vampires. There the Downworlders buy and sell magical objects, make dark bargains, and whisper secrets they do not want the Nephilim to know. Through two centuries, however, there has been a frequent visitor to the Shadow Market from the City of Bones, the very heart of the Shadowhunters. As a Silent Brother, Brother Zachariah is sworn keeper of the laws and lore of the Nephilim. But once he was a Shadowhunter called Jem Carstairs, and his love, then and always, is the warlock Tessa Gray.
Follow Brother Zachariah and see, against the backdrop of the Shadow Market's dark dealings and festive celebrations, Anna Lightwood's first romance, Matthew Fairchild's great sin and Tessa Gray plunged into a world war. Valentine Morgenstern buys a soul at the Market and a young Jace Wayland's soul finds safe harbor. In the Market is hidden a lost heir and a beloved ghost, and no one can save you once you have traded away your heart. Not even Brother Zachariah…
Let's just start with my most unoriginal anticipated release. Yeah. I need this. Badly! I've actually already listened to the audiobooks of all of these stories except for the last two, since those haven't come out yet. I absolutely loved all of them!
Julie Kagawa – Soul of the Sword
One thousand years ago, a wish was made to the Harbinger of Change and a sword of rage and lightning was forged. Kamigoroshi. The Godslayer. It had one task: to seal away the powerful demon Hakaimono.
Now he has broken free.
Kitsune shapeshifter Yumeko has one task: to take her piece of the ancient and powerful scroll to the Steel Feather temple in order to prevent the summoning of the Harbinger of Change, the great Kami Dragon who will grant one wish to whomever holds the Scroll of a Thousand Prayers. But she has a new enemy now. The demon Hakaimono, who for centuries was trapped in a cursed sword, has escaped and possessed the boy she thought would protect her, Kage Tatsumi of the Shadow Clan.
Hakaimono has done the unthinkable and joined forces with the Master of Demons in order to break the curse of the sword and set himself free. To overthrow the empire and cover the land in darkness, they need one thing: the Scroll of a Thousand Prayers. As the paths of Yumeko and the possessed Tatsumi cross once again, the entire empire will be thrown into chaos.
I got The Shadow of the Fox in an Owlcrate box last year. Not having loved one of Julie Kagawa's other books, I was a bit hesitant to pick it up, but when I finally did, I thoroughly enjoyed it. The world building is amazing, and the main character is so loveable! So this is definitely a sequel I'm looking forward to.
Abdi Nazemian – Like a Love Story
It's 1989 in New York City, and for three teens, the world is changing.
Reza is an Iranian boy who has just moved to the city with his mother to live with his stepfather and stepbrother. He's terrified that someone will guess the truth he can barely acknowledge about himself. Reza knows he's gay, but all he knows of gay life are the media's images of men dying of AIDS.
Judy is an aspiring fashion designer who worships her uncle Stephen, a gay man with AIDS who devotes his time to activism as a member of ACT UP. Judy has never imagined finding romance…until she falls for Reza and they start dating.
Art is Judy's best friend, their school's only out and proud teen. He'll never be who his conservative parents want him to be, so he rebels by documenting the AIDS crisis through his photographs.
As Reza and Art grow closer, Reza struggles to find a way out of his deception that won't break Judy's heart–and destroy the most meaningful friendship he's ever known.
It's safe to say I've read my fair share of LGBTQ+ books, and they're generally great to read. But every now and then a book pops up that just sounds extra special. This is one of those. It sounds like such an important read, and I don't think I've seen any other YA books about the AIDS crisis. I'm (not!) ready for this to absolutely break my heart.
Lucy Powrie – The Paper & Hearts Society
Tabby Brown is tired of trying to fit in. She doesn't want to go to parties – in fact, she would much rather snuggle up on the sofa with her favourite book.
It's like she hasn't found her people …
Then Tabby joins a club that promises to celebrate books. What could go wrong? EVERYTHING – especially when making new friends brings out an AWKWARD BUZZING feeling all over her body.
But Olivia, Cassie, Henry and Ed have something that makes Tabby come back. Maybe it's the Austen-themed fancy-dress parties, or Ed's fluffy cat Mrs Simpkins, or could it be Henry himself …
Can Tabby let her weird out AND live THE BEST BOOKISH LIFE POSSIBLE?
I found out about this UKYA release because a few of my online friends have already read and loved it, and it sounds like a really fun read, filled with fandom references! I'm definitely hear for feelgood summer contemporaries, even when it's not technically summer yet!!
Claire Kann – If It Makes You Happy
High school finally behind her, Winnie is all set to attend college in the fall. But first she's spending her summer days working at her granny's diner and begins spending her midnights with Dallas—the boy she loves to hate and hates that she likes. Winnie lives in Misty Haven, a small town where secrets are impossible to keep—like when Winnie allegedly snaps on Dr. Skinner, which results in everyone feeling compelled to give her weight loss advice for her own good. Because they care that's she's "too fat."
Winnie dreams of someday inheriting the diner—but it'll go away if they can't make money, and fast. Winnie has a solution—win a televised cooking competition and make bank. But Granny doesn't want her to enter—so Winnie has to find a way around her formidable grandmother. Can she come out on top?
Reading Claire Kann's debut Let's Talk About Love made my asexual heart very happy! And this one will have similar representation, I think, but the main character is also fat and in a QPR (queerplatonic relationship)!! I'm so unbelievably excited to read this book!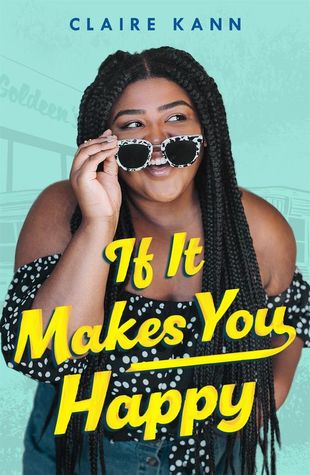 Kindred: 12 Queer #LoveOzYA Stories
Twelve of Australia's best writers from the LGBTQ+ community are brought together in this ground-breaking collection of YA short stories.
What does it mean to be queer? What does it mean to be human? In this powerful #LoveOzYA collection, twelve of Australia's finest writers from the LGBTQ+ community explore the stories of family, friends, lovers and strangers – the connections that form us. This inclusive and intersectional #OwnVoices anthology for teen readers features work from writers of diverse genders, sexualities and identities, including writers who identify as First Nations, people of colour or disabled. With short stories by bestsellers, award winners and newcomers to young adult fiction including Jax Jacki Brown, Claire G Coleman, Michael Earp, Alison Evans, Erin Gough, Benjamin Law, Omar Sakr, Christos Tsiolkas, Ellen van Neerven, Marlee Jane Ward, Jen Wilde and Nevo Zisin.
Sinde June is Pride Month, I'll be mainly reading books with LGBTQ+ rep. In case you've missed it, I'm also hosting a Pride challenge, along with two of my friends! This has me especially excited about this Australian anthology, that includes diverse and inclusive short stories by queer authors with different identities.
What book release are you most excited about this month?